Custom Metal Artwork & Furnishings Handmade in Metro Detroit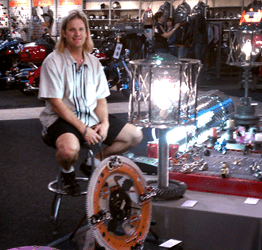 Smutek's Metal Art was born out of a passion for cars, trucks, semis, Harleys - and the parts that come together to create them.
I am Jim Smutek, a local artist living in Dearborn Heights, Michigan. Most of my work involves automobile parts and industrial materials. I began by restoring classic autos (mostly 1960-era Mustangs) and while looking at warehouses full of polished, chromed, imported and expensive parts, I saw the beauty in these pieces outside of a crankcase and engine compartment. Soon enough, I started creating a variety of things made out of recycled car parts.
My first art pieces were sculptures made with airplane piston rings, but afterward I switched to automobile suspension as well as drive train parts. My most popular items are my clocks which are made out of flex plates. My art work has been exhibited at the Pure Detroit store in the Renaissance Center in Downtown Detroit and at Henry Ford Museum store in Dearborn. Currently, my art sits at Starring The Gallery in Northville, MI. You will find unique tables, sculptures, and wall art to furnish your home - or to be given as gifts.
How Do I Place an Order?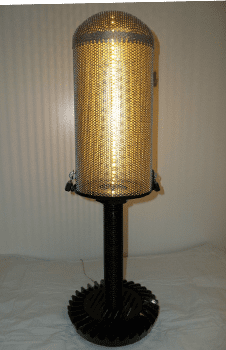 All of my pieces are individually handmade by me from original parts. While many of the pieces showcased are readily available, not all of the art pieces exhibited here are always in stock. If the item you would like to order is not in stock, it may take me anywhere from two to four weeks to create your art piece. The final piece may look a little different due to the availability of the parts. To place an order, please contact the artist via e-mail using the contact form or directly by phone!
When ordering, please refer to the gallery and provide a description the picture. For additional information, please visit our FAQ section. Thank you for your interest!
Frequently Asked Questions